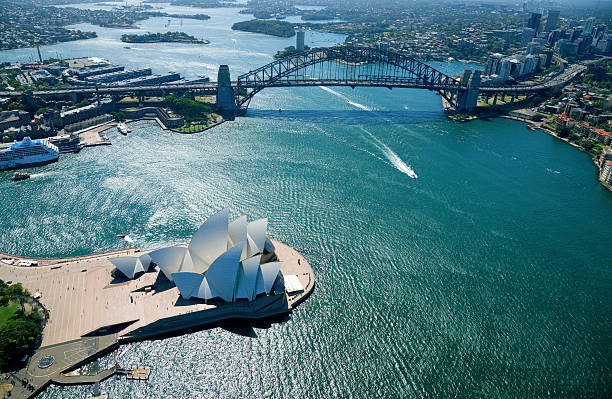 Sydney is one of the greatest cities in the world and one of the most sought-after places to live.
It's a city that offers endless opportunities for work, play and education, but it's also a place where you can spend a lot of money.
With so many top-notch restaurants in Sydney, there are some that will seem more expensive than others.
But what are the most expensive restaurants in Sydney?
We've compiled a list of the most expensive restaurants in Sydney so you know where to go if you want to treat yourself while on holiday or when visiting friends or family.
---
Related: The 10 Most Expensive Restaurants in Melbourne
---
Most Expensive Restaurants in Sydney
When it comes to fine dining there is only one city that stands out: Sydney.
The beautiful harbour city has been ranked as the best place in the world for quality food and drink by The World's 50 Best Restaurants.
If you're looking for the most expensive restaurants in Sydney, then these are our top picks!
1. Aria Restaurant Sydney – $190
This is a fine dining restaurant but it also has a casual lounge area where you can enjoy drinks.
The food they serve is a combination of Mediterranean and Middle Eastern cuisine.
The menu offers an array of delicious dishes that will make your mouth water.
Aria Restaurant has an extensive wine list with more than 1,000 different wines to choose from.
They have an excellent selection of wines from all over the world.
You can also order cocktails if you prefer something other than wine or beer with your meal.
The atmosphere at Aria Restaurant is very relaxing and comfortable so it's perfect for both business dinners and romantic evenings out with friends or loved ones.
You'll feel right at home here and enjoy every minute of your time spent there whether it's for lunch or dinner.
2. Tetsuya's Restaurant – $285
Tetsuya's Restaurant is one of the most expensive restaurants in Sydney, with a $300 set menu and a $120 tasting menu.
The restaurant has three Michelin stars and has been voted as one of the top 50 restaurants in Asia.
It is located in the centre of Sydney at 529 Kent Street.
The food is amazing and the service is great. The restaurant has an intimate atmosphere and it's a perfect place for date night or even a business meeting.
Tetsuya's Restaurant is located in Sydney CBD on Victoria Street and you can get there by train or by car.
I recommend coming here for lunch or dinner as it will be less crowded than during the weekend nights.
The menu has different sections including sashimi, sushi, salads, mains and desserts.
If you're not sure what to order, just ask your waiter or waitress as they can help you choose something that suits your taste buds!
3. Quay Restaurant – $260
Quay Sydney is one of the most expensive restaurants in Sydney, with a $260 prix fixe menu.
The restaurant is located inside the iconic Sydney Harbour building, Circular Quay.
The menu is inspired by Australian produce with a French twist.
Guests can enjoy dishes such as scallop ceviche with quinoa and lime sorbet; beef fillet with celeriac puree and wild mushrooms; or poached egg with caviar, crème fraîche potato cake, beetroot jelly and tarragon mayo on toast.
Desserts include vanilla bean pannacotta with candied pistachio crumb; or chocolate delice cake with blood orange sorbet, almond cake and hazelnut mousse.
4. Rockpool Bar & Grill – $650
The Rockpool Bar & Grill Sydney is housed in the heritage-listed City Mutual Building in Sydney's CBD.
Cattle is the star of the menu at Rockpool Bar & Grill Sydney, with stock sourced from Australia's greatest beef suppliers.
All of the beef is dry matured on the premises.
Seafood is likewise treated with respect, with a dedicated fish filleting area and five tanks containing live shellfish.
With over 3,800 wines on sale, wine is also a key focus of Rockpool Bar & Grill Sydney.
The award-winning wine list, designed to match the menu's immense versatility and wine-friendly character, includes all of the world's major wine-growing areas, appealing to every taste and budget.
5. Restaurant Hubert – $150
Hubert, an opulent French restaurant tucked beneath Sydney's CBD, is evocative of post-war Paris.
With low ceilings, red leather booths, old artwork on the walls, and even a damaged grand piano, the dining space is softly illuminated.
It's a very enormous place with two bars, many dining rooms, and even a stage for seminars and workshops.
Classics on the menu include oysters mignonette, duck parfait, beef tartare, chicken fricassee, and cote de bouef. Choose from the French-focused wine list or one of the outstanding cocktails.
The kitchen remains open until 1 a.m., making it ideal for late-night exquisite dining.
6. LuMi Dining – $255
Although Japanese and Italian may not appear to be natural bedfellows, Federico Zanellato – previously of world-famous restaurants Nihonryori RyuGin, Noma, and Attica – demonstrates that one man's soba is another man's pasta.
LuMi, a futuristic glass cube overlooking Sydney Harbour, has been a favourite of Sydney's well-heeled set since its debut in 2014.
Tasting menus of classical Italian and French dishes are strong on technique but enhanced by Asian ingredients and a decidedly Japanese lightness of touch.
Consider hapuka (grouper) wrapped in daikon (winter radish), spanner crab with macadamia nuts and delicate white chocolate, and sudachi (a Japanese green citrus fruit) mousse served in an egg shell.
7. Bentley Restaurant + Bar – $220
Bentley Restaurant & Bar in Sydney is a culinary treasure known for its modern and innovative food delivered in a calm and rustic setting.
The house-cured wagyu tri-tip with bread and pickles, as well as the anchovies with cured apple and fried bread, are both great and shareable appetizers.
The kurobuta pork loin with macadamia nuts and acidic umeboshi, swordfish with pickled mussels and kelp butter, and vegetarian beetroot with black rice, blackberry, and purple kale are some of Bentley Restaurant & Bar's signature entrees, all of which are very fresh and beautifully seasoned.
8. Bennelong – $180
Bennelong is one of the most expensive restaurants in Sydney. It's located in the Bennelong Point, a historic building on Sydney Harbour and is part of The Royal Botanic Garden.
Modern Australian cuisine offers dishes like grilled lamb with fresh oregano, grilled Spanish mackerel with braised fennel and grilled Tasmanian salmon with nasturtium leaves.
The restaurant has won several awards including "Best Restaurant" at the Good Food Guide Awards, "Best Restaurant in Australia" at the World Gourmet Summit Awards and a five-star rating from The Australian Gourmet Traveller Restaurant Guide.
Bennelong is a popular place to dine out and reservations are recommended as it often books up months in advance.
9. Bistro Guillaume Sydney – $85
Bistro Guillaume Sydney is one of the most expensive restaurants in Sydney.
Located in The Rocks, it has an elegant French atmosphere and serves modern Australian cuisine.
This restaurant has been around for a while and is one of the most expensive restaurants in Sydney.
It's classic French cuisine, with some modern touches, and it's always hard to get a table here.
But if you do manage to get in, you won't be disappointed.
The menu changes regularly but there are always favourites on offer like grilled Dover sole with spinach & parmesan risotto and slow-cooked lamb shank with risotto & saffron jus.
For dessert try the vanilla crème brûlée or chocolate mousse cake with raspberry sorbet.
10. The Bridge Room – $101
The Bridge Room is one of the most expensive restaurants in Sydney, with a degustation menu of up to $100 per person.
It's located on Bridge Street and has earned a reputation for delivering high-quality food with an artistic flair.
The Bridge Room's menu changes regularly but always includes a selection of dishes that have been developed specifically for this space.
The team works closely with local producers to source ingredients such as fish, cheese and wine from regional areas around Australia.