Las Vegas is dubbed the "City of Lights." Furthermore, is well-known for its nightclubs and nightlife, as well as shows, gambling, and massive casinos.
Hollywood played a significant role in shaping the city's image today.
Many films depicted how gambling mishaps occur in Las Vegas. But there is another side to the city that is not immediately apparent.
Sin City is home to a plethora of high-end restaurants that offer exceptional customer service.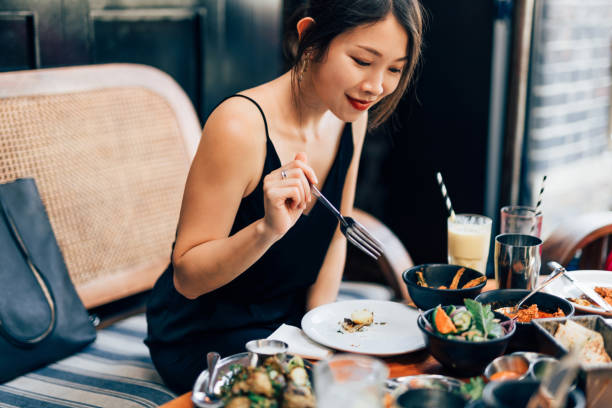 All of them have top-tier chefs who will prepare some of the best meals you've ever had. This is the only acceptable way of life in Sin City.
To provide you with a more complete picture of Las Vegas restaurants, we will compile a list of the most expensive restaurants in Las Vegas.
Without further ado, let us begin with our list.
1 Joël Robuchon
This restaurant is located inside the Mansion at MGM Grand Hotel and Casino and is regarded by many as the best restaurant in Las Vegas.
The elegant French cuisine prepared by award-winning chef Joel Robuchon has earned the restaurant two Michelin stars.
Joel Robuchon Restaurant offers a menu of dishes ranging from $198 to $348. The opening menu features eight dishes, including the foie gras terrine with caramelized pear and blackcurrant coulis, priced at $238.
The restaurant's signature dish, the French onion soup with fine herb croutons and gruyere cheese is priced at $98.
2. Gordon Ramsay Steak
Gordon Ramsay Steak is one of the best and most expensive restaurants in Las Vegas. It is a perfect place for a romantic dinner or any type of special occasion. The restaurant is known for its impeccable service, great food, and friendly staff.
The food served in the restaurant is top-notch and prepared with fresh ingredients. The wine list is quite extensive.
The portions are big, so you will get your money's worth here. Everything about the Gordon Ramsay Steak screams class and elegance.
If you are looking for a good steak, this is the place to go. The restaurant has an outdoor seating area that offers scenic views of the Bellagio Fountains, which is quite nice.
The food served at Gordon Ramsay Steak is all-American with a modern twist.
The menu includes appetizers, salads, seafood, pasta, and steaks which are prepared by expert chefs in a traditional style under Gordon Ramsay's supervision.
You will also find some delicious desserts on the menu that will delight your taste buds at the end of your meal.
3. Restaurant Guy Savoy
Restaurant Guy Savoy is another most expensive restaurant in Las Vegas. However, it's not just your wallet that takes a hit when you dine here. It's also your wallet.
Tables at Restaurant Guy Savoy start at $500 per person. The menu features caviar, lobster, truffles, and other rare delicacies.
If you're feeling flush, you can order a bottle of Champagne for $500. Some bottles are even priced at $1,000.
The food is incredible, though not what you would expect from a French restaurant. It has more in common with Asian fusion cuisine than French cooking.
A typical dinner might include raw tuna served with caviar and a quail egg on top of a bed of sushi rice. The desserts are just as impressive, with a $600 ice cream sundae topping them all (it's worth it).
Coming here to eat should be an experience you remember for the rest of your life – or at least the rest of your meal.
4. Fleur by Hubert Keller
Fleur, located at the Mandalay Bay Resort & Casino Las Vegas, is a lovely, classic French bistro. Chef Hubert Keller founded Fluer, and while he has since left, his signature artistry remains on the menu.
You'll find delectable traditional French dishes reimagined for the modern palate. Some may be surprised, however, that Fluer made our list of the most expensive restaurants in Las Vegas.
Fleur is an award-winning, upscale casual restaurant, but the menu isn't particularly impressive for the price. The Fleur Burger 5000 is what puts Fleur on this list.
First and foremost, you should know that this burger is anything but ordinary. It's Wagyu beef with foie gras and black truffles on top.
You can also pair this burger with a bottle of 1995 Chateau Petrus, a beautiful, complex gem among wines.
How much does the Fleur Burger and wine cost? You can expect to pay $5000 for this exquisite plate.
5. é by José Andrés
E by Jose Andres is one of the more exclusive top luxury dining restaurants in Las Vegas.
It is also one of the most expensive on the strip and you cannot make reservations unless you are staying at the hotel or get lucky with a walk-in.
This restaurant offers a full-service bar, with a great selection of wine, spirits, and cocktails.
The food menu is modern Mediterranean cuisine, focusing on quality ingredients and unique preparation techniques.
What makes this restaurant so expensive? Besides the high-end cuisine, you can thank the location. It's a short walk from the Bellagio, Palazzo, and Wynn Las Vegas.
An eight-course meal with wine pairings is $335 per person before tax and tip and requires reservations at least 24 hours in advance.
But you can get a taste of the menu for less with an E by Jose Andres lunch special for $55 per person that includes three courses at a time when space is available.
6. Twist by Pierre Gagnaire
Twist by Pierre Gagnaire is one of the best and most expensive restaurants in Las Vegas. The restaurant's menu is like an artist palette of colors and textures, with a wide range of flavors to choose from.
The price range for a meal at Twist by Pierre Gagnaire is $250-350 per person. There are several different choices available for appetizers, soups, salads, and desserts that can be ordered a la carte or as part of a tasting menu.
Twist by Pierre Gagnaire Restaurant is located in the Forum Shops at Caesars Palace and offers guests elegant surroundings for lunch, dinner, and weekend brunch.
Light pours through floor-to-ceiling windows with views of the Strip and Bellagio fountains. French country decor adorns the space with black-and-white photos of French landscapes hanging on the walls.
7. Jean Georges Steakhouse
When it comes to Vegas steakhouse dining, Jean Georges inside ARIA Resort & Casino is possibly at the top of the list. A wood-burning grill imparts distinct flavors to the dozens of cuts of three types of beef and fresh seafood.
Jean Georges is one of only eight restaurants in the United States certified to sell Kobe Beef, a testament to the quality of its selection. A highlight of the menu, one cut of A5 certified Kobe usually costs more than $300 without sides.
Sides like black truffle mac and cheese and crunchy potatoes with chili yogurt and herbs round out an exquisite a la carte menu.
If you want to upgrade to a decadent dining experience, there's also a signature tasting menu with two optional wine pairing add-ons.
8. Le Cirque
Le Cirque is a superb restaurant that serves up some of the finest food in Las Vegas. Located at Bellagio, this fine dining establishment provides a spectacular view of the Bellagio Fountains.
The menu is quite extensive, making it easy to find an appealing dish, and you are sure to find something that fits your taste. The specialty drinks are quite tasty and the service is impeccable.
The decor is very modern, with only the finest materials used throughout. It is more of an upscale place, but for those who can afford it, it is well worth it.
Le Cirque is regarded as one of the best restaurants in Las Vegas. It attracts celebrities, tourists, and high-end diners looking for an unforgettable meal.
The Le Cirque menu changes seasonally, but still maintains some of the most popular items from previous menus. A perfect example of this is the pastry cart that is wheeled around the dining room to tantalize guests with sweet treats like a chocolate mousse cake, raspberry soufflé, and crème brûlée.
Other items on the menu include grilled black bass with artichokes and lemon butter sauce, grilled Wagyu beef tenderloin with seasonal vegetables and potatoes confit, and sautéed soft shell crabs with grapefruit gastrique. Vegetarian options are also available to please all guests.
9. Picasso
The Picasso Restaurant is located inside the Bellagio Hotel and Casino. It features an impressive collection of artworks by Pablo Picasso and is decorated in a southwestern style.
The menu includes Mediterranean dishes such as grilled lamb chops with black olive tapenade and poached eggplant with fresh herbs and tomato vinaigrette, as well as seafood specialties such as shrimp risotto with saffron cream sauce and bouillabaisse with Linguica sausage, clams, mussels, and salmon. All this will cost you around $300 to $400 per person.
10. Bar Masa
Bar Masa, the sushi restaurant in the Boulevard, is one of the best restaurants in Vegas. The restaurant's chefs are world-class and have been featured on the Food Network.
It's also a great place for dinner dates. The décor is beautiful and the mood romantic. If you're looking for a great dining experience that won't break your budget, this is a wise choice.
A meal at Bar Masa will cost you between $30 and $60 a person, but it's worth every penny. You'll get excellent food and friendly service. If you're looking for an unforgettable dining experience in Las Vegas, this is the place to visit.
Las Vegas has plenty of options if you want to eat at inexpensive fast-food restaurants or cheap cafes that serve pizza or burgers. But if you want a romantic dinner with excellent food and professional service, it's a waste of money to patronize those kinds of places.
Bar Masa offers upscale cuisine without outrageous prices. It's one of my favorite restaurants in Vegas!