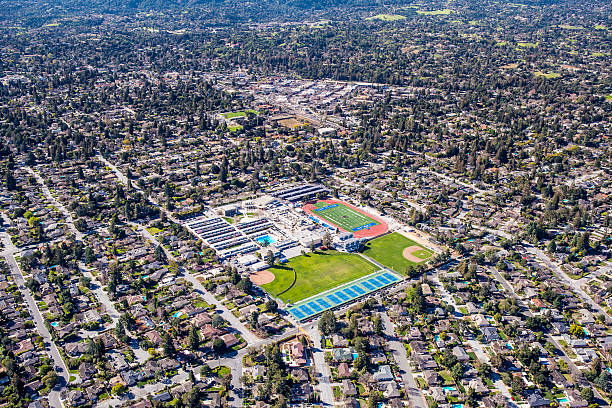 Northern California is a region known for its diverse landscapes, thriving tech industry, vibrant cultural scenes, and top-notch educational institutions.
From the bustling urban environment of San Francisco to the peaceful suburban charm of cities like Orinda and Rocklin, Northern California has something to offer for everyone.
After conducting extensive research and considering various factors such as quality of life, education, recreational opportunities, and community engagement, we've identified the 15 strongest places to live in this remarkable region.
Whether you're drawn to the wine country of Napa, the tech hubs of San Jose and Palo Alto, or the natural beauty of places like El Dorado Hills and Ridgecrest, this comprehensive guide will provide insights into the unique characteristics that make each of these locations a top choice.
Stay with us as we explore the best places to live in Northern California and find the perfect spot for your next home.
5 Reasons Why You Should Choose Northern California
Scenic Landscapes
The natural beauty of Northern California is truly captivating. From the towering redwoods of the coastal areas to the stunning vistas of Lake Tahoe in the Sierra Nevada mountains, the region offers a diverse range of landscapes.
Residents can enjoy outdoor activities like hiking, camping, and skiing while being surrounded by breathtaking scenery.
Innovative Technology Hub
Northern California is renowned as a global technology hub, with Silicon Valley at its heart. This region is a breeding ground for innovation, housing some of the world's most influential tech companies.
Living here provides unique opportunities to work alongside brilliant minds, fostering personal and professional growth.
Cultural Diversity
The region's cultural diversity enriches the daily lives of its residents. From San Francisco's vibrant neighborhoods to multicultural festivals and events, Northern California celebrates a wide range of cultures, languages, and cuisines.
This diversity creates an open and inclusive environment that promotes understanding and acceptance.
Exceptional Education
Home to prestigious universities such as Stanford, UC Berkeley, and UC Davis, Northern California offers unparalleled educational opportunities.
Residents have access to top-notch research facilities, renowned faculty, and a wide array of academic programs, contributing to a highly educated and intellectually stimulating community.
Mild Climate
Northern California's climate is mild and pleasant for the most part. Coastal areas benefit from cool summers and temperate winters, while inland regions experience warmer summers and cooler winters.
This climate fosters an outdoor-friendly lifestyle and enables residents to enjoy a variety of activities year-round.
12 Best Neighborhoods to Live in Northern California
1. Clovis
Clovis, located near Fresno in Northern California, offers a rich blend of community spirit and recreational activities. Known as the "Gateway to the Sierras," Clovis provides easy access to the Sierra National Forest and Yosemite National Park.
The city boasts a number of walking and biking trails, including the popular Clovis Old Town Trail. Clovis Unified School District has received acclaim for its quality education, making the city appealing for families.
Annual events like the Clovis Rodeo draw visitors and locals alike, strengthening community bonds. Shopping enthusiasts will enjoy the unique boutiques in Old Town Clovis.
2. Folsom
Folsom, located northeast of Sacramento, is a city rich in history and outdoor opportunities. Known for the famous Folsom Prison and the Folsom Dam, the city provides residents with an interesting blend of historical sites and modern amenities.
The American River Bike Trail offers 32 miles of scenic beauty for cyclists, runners, and walkers. Folsom Lake and nearby parks provide spots for fishing, boating, and picnicking.
The city's vibrant arts scene includes theaters, galleries, and live music. Families appreciate Folsom's highly rated schools and safe neighborhoods.
The Historic Sutter Street area offers unique shopping and dining experiences. Easy access to major highways and light rail service makes commuting convenient.
3. Dublin
Dublin, situated in the Tri-Valley region of Northern California's East Bay, is a rapidly growing city known for its family-friendly atmosphere and convenient location.
The city's proximity to major highways and BART stations makes commuting to other parts of the Bay Area a breeze. Dublin boasts several parks, hiking trails, and golf courses, offering plenty of outdoor recreational opportunities.
The schools in Dublin are highly regarded, attracting many families to the area. A strong sense of community is evident in the city's various events, like the annual St. Patrick's Day Festival.
The newly developed shopping centers, coupled with an array of dining options, contribute to the city's modern appeal.
4. Los Altos
Los Altos, located in the heart of Silicon Valley, is known for its tree-lined streets, spacious lots, and upscale homes. This affluent suburb offers a peaceful residential environment while being close to tech hubs like Mountain View and Palo Alto.
The schools in Los Altos are top-rated, attracting families who prioritize education. The city's charming downtown area features boutique shops, gourmet restaurants, and local cafes.
With numerous parks, nature reserves, and hiking trails, outdoor enthusiasts have ample space to explore. Los Altos also hosts community events such as the Arts & Wine Festival, fostering a close-knit community feel.
The blend of excellent schools, beautiful surroundings, convenient location, and upscale living makes Los Altos a premier place to reside in Northern California.
5. El Dorado Hills
El Dorado Hills, situated east of Sacramento, offers a luxurious suburban lifestyle with breathtaking views of the Sierra Nevada mountains.
The community prides itself on its high-quality schools, making it a popular choice for families. Numerous parks, hiking trails, and the nearby Folsom Lake provide endless outdoor recreational opportunities.
The Town Center offers a mix of shopping, dining, and entertainment options, creating a lively hub for residents. The area's numerous master-planned neighborhoods often include amenities like swimming pools and tennis courts, adding to the appeal.
El Dorado Hills successfully balances a peaceful suburban atmosphere with easy access to Sacramento and other nearby cities.
6. San Francisco
San Francisco, one of the most iconic cities in Northern California, is known for its diverse culture, stunning bay views, and innovative tech industry.
The city's neighborhoods, each with its unique charm, offer a range of living experiences from the bustling downtown to the serene Outer Sunset.
Famous landmarks like the Golden Gate Bridge, Alcatraz, and Fisherman's Wharf attract tourists, while locals enjoy the vibrant arts and food scenes.
San Francisco's many parks, including the renowned Golden Gate Park, offer residents space to relax and play. The city's extensive public transportation system connects various parts of the Bay Area, providing convenience for commuters.
7. Roseville
Roseville, located just northeast of Sacramento, is a thriving city known for its strong community, excellent schools, and abundance of shopping opportunities.
The city offers various recreational activities with over 70 parks, including the popular Maidu Regional Park, and numerous biking and hiking trails.
Roseville's Galleria Mall and The Fountains provide residents with diverse shopping and dining options. Families appreciate the city's commitment to education, with schools that consistently receive high ratings.
Roseville also hosts community events like outdoor concerts and seasonal festivals, fostering a strong sense of belonging. The city's location offers easy access to both the Sierra Nevada mountains and Sacramento's urban amenities.
8. Rocklin
Rocklin, a city located northeast of Sacramento in Placer County, offers a high quality of life with its blend of suburban comfort and natural beauty.
Families find Rocklin appealing due to its excellent school system and numerous parks that offer space for relaxation and recreation. The city is home to several golf courses and hiking trails, making it a delightful place for outdoor enthusiasts.
Rocklin's community events, such as the annual Hot Chili Cool Cars Festival, bring residents together, creating a close-knit atmosphere. Shopping centers like Blue Oaks Town Center offer shopping and dining choices.
Its proximity to both Sacramento and the Sierra Nevada Mountains provides additional leisure options. Rocklin's family-friendly environment, top-rated schools, and outdoor activities make it a desirable place to call home.
9. Granite Bay
Granite Bay, located east of Roseville, is known for its upscale living, large home lots, and beautiful landscapes. This affluent community offers a serene environment with tree-lined streets and stunning views of the Sierra Nevada Mountains.
Outdoor enthusiasts enjoy Folsom Lake, which provides opportunities for boating, fishing, and hiking. The schools in Granite Bay rank among the top in California, attracting families who prioritize education.
The community actively participates in local events, and neighbors often gather for social activities. Golf courses and equestrian facilities cater to specific recreational interests, while nearby shopping centers offer convenience.
Granite Bay successfully blends luxury living with a touch of rural charm, making it a sought-after place to live in Northern California.
10. San Jose
San Jose, the heart of Silicon Valley, is a vibrant city known for its technological innovation, cultural diversity, and bustling economy.
Home to many tech giants, San Jose attracts professionals seeking opportunities in the tech industry. The city offers a variety of neighborhoods, each with its unique character, from the lively downtown to the family-oriented Willow Glen.
San Jose's cultural scene includes museums, theaters, and diverse dining options. Outdoor enthusiasts appreciate the city's many parks, hiking trails, and proximity to the Santa Cruz Mountains.
Excellent schools and universities add to the city's appeal. San Jose's blend of economic opportunities, cultural richness, recreational activities, and educational excellence makes it one of Northern California's prime places to live.
11. Ridgecrest
Ridgecrest, located in the Mojave Desert in Northern California, offers a unique living experience with its desert landscape and strong sense of community.
Known for its proximity to the Naval Air Weapons Station China Lake, Ridgecrest has a significant military presence. The city provides various recreational activities, including off-roading, hiking, and exploring nearby natural wonders like Death Valley National Park.
The local Maturango Museum offers insight into the area's geological and cultural history. Ridgecrest's schools are well-regarded, and the community frequently comes together for local events and festivals.
The city's location offers stunning views of the Sierra Nevada Mountains and allows residents to enjoy both desert and mountainous outdoor adventures.
12. Palo Alto
Palo Alto, situated in the heart of Silicon Valley, is renowned for its innovative tech environment, prestigious educational institutions, and upscale lifestyle. Home to Stanford University, the city boasts a rich intellectual and entrepreneurial culture.
Palo Alto's tree-lined streets, parks, and bike paths offer residents opportunities for outdoor activities. The bustling downtown area provides a mix of shopping, dining, and entertainment options.
Top-rated public schools and various private schools make Palo Alto attractive to families. The city's strategic location allows easy access to San Francisco, San Jose, and other Bay Area cities.
From its strong focus on education to its role as a tech hub, Palo Alto offers a stimulating and sophisticated living experience, making it one of Northern California's most sought-after places to live.
13. Orinda
Orinda is a scenic city nestled in the hills of Northern California's East Bay area. Known for its picturesque landscapes, this small town is a haven for those who love nature.
Hiking trails wind through the oak-studded hills, providing opportunities for outdoor enthusiasts to explore the natural beauty. Orinda's schools consistently rank among the best in California, making it a desirable place for families.
The community is tight-knit and hosts various events throughout the year, like the annual Orinda Film Festival.
Proximity to BART stations offers easy access to San Francisco and surrounding cities, allowing residents to enjoy both tranquility and urban conveniences.
Orinda offers an attractive blend of suburban charm, excellent education, and access to outdoor adventures.
14. Walnut Creek
Walnut Creek sits in the East Bay region of Northern California and is known for its blend of urban flair and suburban comfort.
The city offers an array of shopping centers, fine dining restaurants, and outdoor recreational spots.
Residents and visitors enjoy the extensive trails in nearby Mount Diablo State Park, providing opportunities for hiking and biking.
Walnut Creek also boasts an impressive arts and culture scene, with theaters like the Lesher Center for the Arts offering world-class performances.
Top-rated schools and a family-friendly environment make Walnut Creek a popular choice for families.
With a convenient location near major highways and BART stations, residents can easily commute to other parts of the Bay Area.
15. Napa
Napa, located in Northern California's wine country, is famous for its vineyards and wineries that attract wine enthusiasts from around the world.
The city offers a blend of urban sophistication and small-town charm. Residents enjoy gourmet restaurants, shopping boutiques, and art galleries.
The Napa River winds through the town, providing scenic beauty and outdoor recreational opportunities like kayaking and hiking. With a Mediterranean climate, Napa has mild winters and warm summers, perfect for outdoor activities.
The local schools have a strong reputation, and the community is known for its friendliness. Living in Napa, you'll find a unique blend of cultural richness and natural beauty.